StanZoil NL52/337
Specific advantages
Soft, absorbent interlock knit cotton liner adds comfort, easy on-off, high-and low-temperature protection.
1.5 AQL - Quality Assurance
Specific features
Durable Neoprene with an inner layer in palm area of Natural Rubber for excellent dexterity, mechanical and chemical protection.
Applications
Mechanical industry
Chemical industry
Handling and transporting chemicals
Petroleum industry
Standards
Product detail
Material
Polychloroprene
Colour
Black, blue
Interior Finish
Textile support
Exterior Finish
Non-slip grip
Length (inches)
14.0"
Thickness (inches)
Med. Wt.
Size
8 9 10 11
Packaging
12 pairs/bag
48 pairs/carton
To contact us
If you would like to ask us a commercial question about our products or if you would like to have more technical information about our gloves and their use, please fill out one of the forms proposed below.


Documentation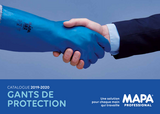 All documents