ProTector AFR282
Specific advantages
Flock lining provides Comfort and perspiration absorption.
Embossed chain grip prevents fluids and greasy solids build-up on working surface.
Specific features
Blue nitrile blend over-dip adds superior resistance to cuts, punctures and abrasions.
Applications
Aeronautics industry
Work with composite materials (resins)
Automotive/mechanical industry
Local Authorities (Cleaning)
Handling household detergents
Other industries
Cleaning and general maintenance in wet environments
Standards
Product detail
Material
Natural latex blended nitrile
Colour
Green, blue
Interior Finish
Flocked
Exterior Finish
Embossed texture
Length (inches)
13.0"
Thickness (inches)
0.026" (26 mil)
Size
6 7 8 9 10
Packaging
12 pairs/bag
72 pairs/carton
To contact us
If you would like to ask us a commercial question about our products or if you would like to have more technical information about our gloves and their use, please fill out one of the forms proposed below.


Documentation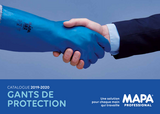 All documents