StanZoil NL-34/334
Specific advantages
Soft, absorbent interlock knit cotton liner adds comfort, easy on-off, high-and low-temperature protection.
1.5 AQL - Quality Assurance
Specific features
Unique multi-layer construction, to avoid thin spots and provide visual two-tone indicator.
Applications
Mechanical industry
Maintenance in wet environments (water, oil, greases, hydrocarbons)
Chemical industry
Handling and transporting chemicals
Petroleum industry
Standards
Product detail
Material
Polychloroprene
Colour
Black, blue
Interior Finish
Textile support
Exterior Finish
Non-slip grip
Length (inches)
12.0"
Thickness (inches)
Med. Wt.
Size
6 7 8 9
Packaging
12 pairs/box
72 pairs/carton
To contact us
If you would like to ask us a commercial question about our products or if you would like to have more technical information about our gloves and their use, please fill out one of the forms proposed below.


Documentation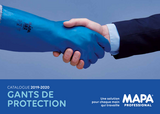 All documents