KryTech 622
Gallery
Specific advantages
Very high cut protection without any compromise on comfort, dexterity and breathability
Good durability that offers better productivity and optimizes your costs
A seamless plaited glove for very good fit, dexterity and flexibility.
Can be used with touch devices & touch screen
Cut level easy to identify thanks to the marking on the back of the glove.
Applications
Automotive/mechanical industry
Assembly of thin metal sheets
Cutting aluminium strips
Cutting strips (plasma etc.)
Finishing sharp parts
Handling metal parts
Handling sheet metal
Construction Industry (Metalworkers/Locksmiths)
Handling and installing metal structures
Handling sheet metal
Glass industry
Mechanical industry
Assembly of small, oil and grease free parts
Cutting and stamping metal
Handling aluminium strips
Handling of thick, untrimmed sheet metal (not sharp-edged)
Handling sharp sheet metal
Metal shearing or cutting
Standards
4X43E

ISO 13997:
29.5N (3007g)
Product detail
Material
Polyurethane
Colour
Black / Grey
Interior Finish
Seamless textile support from HDPE fibres
Exterior Finish
Ventilated back
Length (inches)
9.45-11.42
Thickness (inches)
Size
6 7 8 9 10 11
Packaging
1 pair/bag
12 pairs/carton
48 pairs/carton
Operating instructions
Instructions for use
It is recommended to check that the gloves are suitable for the intended use, because the conditions of use at workplace may differ from the "CE"-type tests.
It is not recommended for persons sensitized to natural latex (wrist with elastic natural rubber).
Put the gloves on dry, clean hands.
Ensure the inside of the gloves is dry before putting them on again.
Inspect the gloves for cracks or snags before reusing them.
Nor to use them next to moving machinery.
Storage conditions
Store the glove in their original packaging protected from heat, light and humidity.
Laundering conditions
Wipe gloves contaminated with oil or grease with a dry cloth before removing them. Performances of the gloves are not negatively affected by cleaning up to 5 cleaning cycles* according to the standard ISO 6330 : 2012 under the conditions described above: Use of a household or industrial washing machine at 60°C (test methode 6M). Caution: improper use of the gloves or submitting them to a cleaning or laundering process that is not specifically recommended can alter their performance levels.
The customer or the launderer is sole responsible for the compliance with the washing conditions.
* Test performed: 5 successive washes on unworn gloves.
Drying conditions
Trumble dry at a moderate temperature according to the standard ISO 6330 : 2012 (Procedure F)
Legislation
This product is not classified hazardous according to the regulation (EC) n°1272/2008 of the European Parliament and of the Council. This product does not contain more than 0.1 % of substance of very high concern (SVHC) or any substance included in the annex XVII of the regulation n° 1907/2006 of the European Parliament and of the Council (REACH).
Cut Protection
Standard protection for intricate handling in reasonably clean environments
Cut Protection
Standard protection for intricate handling in reasonably clean environments
To contact us
If you would like to ask us a commercial question about our products or if you would like to have more technical information about our gloves and their use, please fill out one of the forms proposed below.


Documentation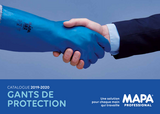 All documents