KryTech 615
Gallery
Specific advantages
High cut protection without any compromise on comfort, dexterity and breathability. Touch screen compatible.
A seamless plaited glove for very good fit, dexterity and flexibility.
Optimal durability that offers better productivity and optimizes your costs
Can be used with touch devices & touch screens (thumb & index)
Silicone free to prevent traces, defects on metal sheet and glass prior to painting
Washable up to 3 times at 60°C without any alteration on performances* allowing to extend glove lifespan, reduce costs and waste.
Cut level easy to identify thanks to the marking on the back of the glove.
* Tests carried out on unworn gloves (i.e. in new condition) which differs from the reality in the field.
Applications
Automotive/mechanical industry
Assembly of thin metal sheets
Cutting aluminium strips
Handling sheet metal
Metal working
Construction Industry (Carpenters/Joiners)
Installing steel structures
Construction Industry (Metalworkers/Locksmiths)
Handling and installing metal structures
Glass industry
Industrial equipment / Metal transformation
Handling of thick metal sheets
Maintenance with cut risk
Industrial maintenance
Standards
4X43D

ISO 13997:
20N (2039g)
Product detail
Material
Polyurethane
Colour
Black, grey
Interior Finish
Seamless textile support from HDPE fibres
Exterior Finish
Ventilated back
Length (inches)
9.5-11.8"
Size
6 7 8 9 10 11
Packaging
1 pair/bag
12 pairs/bag
48 pairs/carton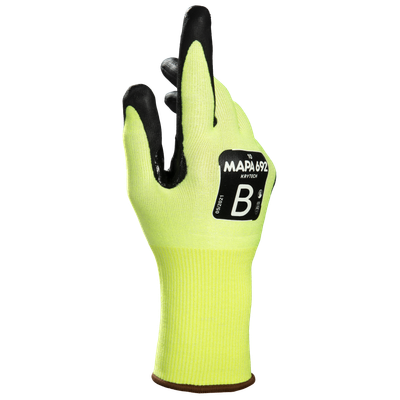 Cut Protection
Comfort, suppleness and high dexterity thanks to its 18 gauge. Touchscreen ability. Cut level B High visibility glove for a better user protection