KryTech 610
Gallery
Specific advantages
Silicone free to prevent traces, defects on metal sheet and glass prior to painting
A seamless plaited glove for very good fit, dexterity and flexibility.
Optimal breathability
Cut level easy to identify thanks to the marking on the back of the glove.
Applications
Automotive/mechanical industry
Handling and sorting small, sharp parts
Handling sheet metal
Construction Industry (Metalworkers/Locksmiths)
Handling and installing metal structures
Handling sheet metal
Installing and repairing locks
Glass industry
Industrial maintenance
Maintenance with cut risk
Mechanical maintenance
Standards
4X43C

ISO 13997:
14.9N (1519g)
Product detail
Material
Polyurethane
Colour
Grey
Interior Finish
Seamless textile support from HDPE fibres
Exterior Finish
Ventilated back
Length (inches)
9.45-11.42
Thickness (inches)
Size
6 7 8 9 10 11
Packaging
1 pair/bag
12 pairs/bag
48 pairs/carton
New
Cut Protection
Very high cut protection without any compromise on comfort and dexterity.
New
Cut Protection
High cut protection without any compromise on comfort and dexterity. Usable with touch screens.
To contact us
If you would like to ask us a commercial question about our products or if you would like to have more technical information about our gloves and their use, please fill out one of the forms proposed below.


Documentation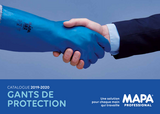 All documents