Temp-Dex 745
Gallery
Specific advantages
Knitted aramide fibers ensures protection from cuts
Comfort and insulation of the interior terry-cloth
Longer service life: good abrasion resistance
Special nitrile Grip coating facilitates work in moderately oily environments
Free of harmful substances: DMF Free
Silicone free to prevent traces, defects on metal sheet and glass prior to painting
Specific features
Dot embossing for better insulation and better grip
Applications
Rubber industry
Vulcanization, demoulding, forming, etc.
Other industries
Handling of moulds in the ceramic industry
Handling of hot steel after welding
Handling of hot piping
Mechanical industry
Working with hot, sharp and oily parts
Standards
4544E

X2XXXX

ISO 13997:
23.4N (2339g)
Product detail
Material
Nitrile
Colour
Blue
Interior Finish
Knitted thermal protection
Exterior Finish
Dots
Length (inches)
Thickness (inches)
Size
Packaging
1 pair/bag
48 pairs/carton
48 pairs/carton
Thermal Protection
Protection against heat and steam, along with inner polymer to protect against oils, greases and hydrocarbons
Thermal Protection
A double-layer glove, with thermal insulation and extended length for extra arm protection.
To contact us
If you would like to ask us a commercial question about our products or if you would like to have more technical information about our gloves and their use, please fill out one of the forms proposed below.


Documentation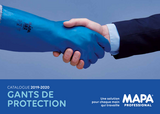 All documents