Krynit Grip and Proof 581
Krynit Grip and Proof 581
Nitrile Grip & Proof coating provide excellent grip and liquidproof protection
Cut Protection
Gallery
Specific advantages
Superior abrasion resistance, extends wear, reduces replacement costs
Performance of the glove guaranteed after 5 laundering cycles (using proper procedures)
Blue liner provides visual indicator of cut performance level
*Tests carried out on unworn gloves (i.e. in new condition) which differs from the reality in the field.
Specific features
ANSI Cut Level 4 protection
Applications
Automotive/mechanical industry
Metal working
Assembly of thin metal sheets
Metal rolling, stamping and assembly
Handling metal parts
Finishing sharp parts
Glass industry
Mechanical industry
Handling sharp sheet metal
Cutting and stamping metal
Standards
4543

ISO 13997:
19,lN ((ANSI Cut Level 4 - 1947g)g)
Product detail
Material
Nitrile GRIP&PROOF coating
Colour
Black
Interior Finish
Seamless textile support from HDPE fibres
Exterior Finish
Non-slip grip
Length (inches)
"
Thickness (inches)
Heavy Wt.
Size
Packaging
1 pair/bag
12 pairs/bag
48 pairs/carton
New
Cut Protection
Enhanced safety, comfort and durability with Grip & Proof Technology
Cut Protection
Cut, Grip and Skin Protection up to knuckle in oily environments. Unbeatable fingertip sensitivity.
To contact us
If you would like to ask us a commercial question about our products or if you would like to have more technical information about our gloves and their use, please fill out one of the forms proposed below.


Documentation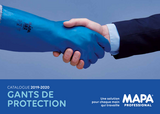 All documents