Cryokit 550
Specific advantages
Interior insulated polyester multilayer fleece provide protection in cryogenic environments
Inner Polyolefin Porelle membrane keeps hands dry while allowing air to flow
Special elastic laminated blue fabric provide dexterity and comfort, in glove and cuff area
Suitable for applications handling liquid nitrogen and other cryogenic gases to protect from cold contact and prevent burns from liquid gas leakage.
Specific features
Cryogenic special elastic laminated blue fabric, internal insulation polyester multilayer fleece with polyolefin Porelle Membrane.
Applications
Laboratory
Manufacturing of medicines
Pharmaceutical preparation
Other industries
Biotechnology
Laboratories
Transport
Handling of liquids at low temperatures (water, oil, hydrocarbons, etc.)
Standards
Product detail
| | |
| --- | --- |
| Material | |
| Colour | Black / Blue |
| Interior Finish | Knitted thermal protection |
| Exterior Finish | Insulating multilayers |
| Length (inches) | 22 |
| Thickness (inches) | Heavy Duty |
| Size | 8 9 10 11 |
| Packaging | 1 pair/box |
Operating instructions
Instructions for use
Suitable for applications handling liquid nitrogen and other cryogenic gases to protect from cold contact and prevent burns from liquid gas leakage. Wear suitable protective clothing at low temperatures. Protect your eyes with a face shield or goggles equipped with lateral protection. Always wear gloves made by non-absorbent materials to handle objects that are or have been in contact with liquid. The gloves should be comfortable and possibly be removed and discarded quickly in case of accidental contact with the liquid. During the transfer operation the use of apron and overshoes is recommended.
• Put the gloves on dry, clean hands.
• Ensure the inside of the gloves is dry before putting them on again.
• Inspect the gloves for cracks or snags before reusing them.
FIRST AID IN CASE OF ACCIDENT TO EXPOSURE TO COLD
Wash affected areas with plenty of warm water and avoid rubbing and removing clothing, do not expose area to direct heat. If there are symptoms of frostbite, injury or extensive damage to the eyes get immediate medical assistance. Until medical assistance arrives protect the affected areas with soft, dry, clean & loosely wrapped material, avoid restricting circulation, keep the patient warm and still, and no alcoholic beverages.
Exposure of the skin to very cold temperatures can cause damage similar to burns, with prolonged exposure frostbite can occur. Inhalation of vapors at low temperature can damage the lungs, cryogenic liquids or vapors can cause eye damage. In contact with cold surfaces (pipes or non-insulated vessels), the skin may adhere very firmly due to the freezing of moisture and tear when you try to remove. Excessive concentrations of oxygen increase the danger of fire and excessive concentrations of other gases, reduces the percentage of oxygen in the environment, creating the danger of asphyxiation.
Storage conditions
Store the glove in their original packaging protected from heat, light and humidity.
Legislation
Category of PPE: III = Personal Protective Equipment of complex design for "severe" risks. The validity of the present CE-Certificate is to be reconfirmed with the annual production surveillance report issued by the authorized Notified Body, as per Art.11 of the Directive EEC 89/686. This certificate is based on the reference standards listed below: its validity is no longer ensured should new version of the standards come into force.
New
Thermal Protection
Waterproof comfortable Cryogenic Gloves that offer dexterity in very low temperatures
Thermal Protection
Reusable Cryogenic Overshoes to protect from liquide gas splashes.
Thermal Protection
Water-repellent grain leather cryogenic gloves for light industrial applications.
To contact us
If you would like to ask us a commercial question about our products or if you would like to have more technical information about our gloves and their use, please fill out one of the forms proposed below.


Documentation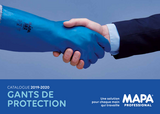 All documents