Trilites 994
Gallery
Specific advantages
Optimal thickness delivering maximum tactility with superior durability.
Unique triple polymer blend for enhanced comfort and resistance.
Protection against chemical splashes.
Silicone free to prevent traces, defects on metal sheet and glass prior to painting
User traceability on inner boxes and cartons.
Applications
Laboratory
Manufacturing of medicines
Pharmaceutical preparation
Standards
Type B

KPT
Product detail
Material
Natural latex, polychloroprene and nitrile
Colour
Mauve
Interior Finish
Chlorinated
Exterior Finish
Pebbled
Length (inches)
9.8"
Thickness (inches)
0.006" (6 mil)
Size
6 7 8 9
Packaging
100 gloves/box
1000 gloves/carton
Chemical chart
Protection rating is determined by taking into account the effects of both permeation and degradation in an attempt to provide users with an overall protection guideline when using our glove products against specific chemicals.
Meaning of colors :
Used for high chemical exposure or chemical immersion, limited to breakthrough time based on a working day.
Used for repeated chemical contact, limited to total chemical exposure i.e. : accumulative breakthrough time based on a working day.
Splash protection only, on chemical exposure the gloves should be discarded and new gloves worn as soon as possible.
Not recommended, these gloves are deemed unsuitable for work with this chemical.
NA : Not applicable because not fully tested (only degradation OR permeation results)
The chemical test data and overall chemical protection rating should not be used as the absolute basis for glove selection. Actual in-use conditions may vary glove performance from the controlled conditions of laboratory tests. Factors other than chemical contact time
Chemical Product
CAS #
Breakthrough time
(minutes)
Permeation
level
Standard
Degradation
level
Rating
2-Propanol (Isopropanol) 99%
67-63-0
4
0
ASTM F1383
NT

Acetone 99%
67-64-1
1
0
ASTM F1383
NT

Acetone 99%
67-64-1
1
0
EN 374-3:2003
NT

Ammonium hydroxide solution 29%
1336-21-6
10
0
ASTM F1383
NT

Benzene 99%
71-43-2
1
0
ASTM F739
1

Bromobenzene 99%
108-86-1
1
0
EN 374-3:2003
NT

Formaldehyde 37%
50-00-0
480
6
EN 16523-1:2015
4

Hydrochloric acid 35%
7647-01-0
11
1
EN 16523-1:2015
NT

Hydrochloric acid 37%
7647-01-0
110
3
ASTM F1383
NT

Hydrofluoric Acid 49%
7664-39-3
27
1
ASTM F739
NT

Hydrogen peroxide 30%
7722-84-1
480
6
EN 16523-1:2015
4

Hydrotreated Light Naphthenic Distillate mixture
64742-53-6
13
1
ASTM F739
1

Kerosene mixture
8008-20-6
4
0
ASTM F739
1

Methanol 99%
67-56-1
10
0
EN 374-3:2003
NT

n-Butanol 99%
71-36-3
2
0
EN 374-3:2003
NT

N-Vinyl-2-Pyrrolidinone 99%
88-12-0
8
0
ASTM F1383
NT

Naphtha VM&P mixture
8032-32-4
0
0
ASTM F739
1

Nitric acid 68%
7697-37-2
14
1
EN 374-3:2003
NT

Phenol 85%
108-95-2
7
0
ASTM F739
3

Phosphoric acid 85%
7664-38-2
480
6
EN 16523-1:2015
NT

Sodium hydroxide 20%
1310-73-2
480
6
EN 374-3:2003
NT

Sodium hydroxide 40%
1310-73-2
480
6
EN 374-3:2003
2

Sodium hydroxide 50%
1310-73-2
480
6
EN 374-3:2003
NT

Sulfuric acid 96%
7664-93-9
6
0
EN 16523-1:2015
NT

Unleaded gasoline mixture
8006-61-9
1
0
ASTM F739
1
*not normalized result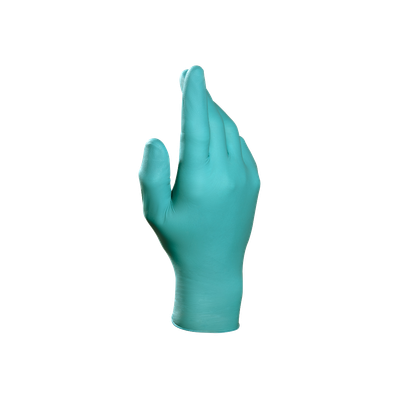 Disposable
The best chemical protection in disposable range : the compromise between protection and dexterity