Eco-Food 168
Gallery
Specific advantages
Excellent dexterity: a thin glove in a supple material
Chlorinated finish for better protection of products being handled
Suitable for contact with food products
Standards
0010
Product detail
Material
Natural latex
Colour
Natural
Interior Finish
Smooth chlorinated
Exterior Finish
Embossed texture, chlorinated
Length (inches)
11.81
Thickness (inches)
0.01
Size
6 7 8 9 10
Packaging
12 pairs/bag
144 pairs/carton
Operating instructions
Instructions for use
It is recommended to check that the gloves are suitable for the intended use, because the conditions of use at the workplace may differ from the "CE"-type tests.
It is not recommended for persons sensitized to natural latex, dithiocarbamates and thiazoles to use this gloves.
Put the gloves on dry, clean hands.
Do not use the gloves in contact with a chemical for a duration in excess of the measured breakthrough time. Refer to the website www.mapa-pro.com or contact the Technical Customer Service - MAPA PROFESSIONAL (stc.mapaspontex@mapaspontex.fr) in order to know this breakthrough time. Use 2 pairs alternatively when in long duration contact with a solvent.
Turn the cuff end down in order to prevent a hazardous chemical from dripping onto the arm.
Inspect the gloves for cracks or snags before reusing them.
Storage conditions
Store the gloves in their original packaging, protected from direct sunlight, far from heat sources or electric equipment.
Laundering conditions
Before taking off the gloves, clean them as appropriate :
in use with a solvent (alcohol, etc...) : rub over with a dry cloth
in use with detergents, acids or alkalies : thoroughly rinse the gloves under running water, and rub over with a dry cloth.
Caution: Inappropriate usage of the gloves or submitting them to a cleaning or laundering process which is not specifically recommended can alter their performance levels.
Drying conditions
Ensure the inside of the gloves is dry before putting them on again.
Legislation
This product is not classified as hazardous according to the directive 1999/45/EC of the European Parliament and of the Council.
This product does not contain any substances of very high concern according to the regulation n° 1907/2006 of the European Parliament and of the Council (REACH).
New
Liquidproof Protection
Additional and comfortable protection on the 5 fingers for long-term work in aggressive environments
Liquidproof Protection
Comfort and safety when gripping heavy, rough or slippery objects in highly aggressive environments
To contact us
If you would like to ask us a commercial question about our products or if you would like to have more technical information about our gloves and their use, please fill out one of the forms proposed below.


Documentation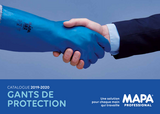 All documents