Heavy-duty handling
Heavy-duty handling
For heavy handling work, your gloves must protect against cuts and impacts but also need to be tough and long lasting.
3 results in your criteria
Cut Protection
High-level cutting protection, shock absorption, durability and comfort for heavy handling work.
Cut Protection
Multi-purpose glove combining protection against cuts, liquids and contact heat up to 100°C
To contact us
If you would like to ask us a commercial question about our products or if you would like to have more technical information about our gloves and their use, please fill out one of the forms proposed below.


Documentation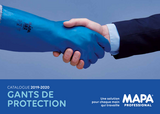 All documents