KROTECH 851
KROTECH 851
High-level cutting protection, shock absorption, durability and comfort for heavy handling work.
Gallery
Specific advantages
Shock protection : specific areas are reinforced to bring cushioning protection and comfort where you need it (Upper thumb, Knuckles, Base fingers & Palm)
Durability in use : Long lasting coating, gloves stay clean due to their liquid resistance, suppleness guaranteed even after drying
Grip overtime thanks to our specific technology
Grease & Oilproof for better skin protection thanks to our specific technology
High cut protection
Specific features
High-level cutting protection, shock absorption, durability and comfort for heavy handling work.
Applications
industry:3789
task:3807
task:3803
task:3802
task:3799
task:3801
task:3805
task:3809
task:3800
task:3804
task:3808
industry:2061
task:2065
task:2069
task:2071
industry:3795
task:3877
task:3879
task:3878
industry:3794
industry:3792
task:3846
task:3838
task:3839
industry:3797
industry:3791
task:3833
task:3825
task:3826
industry:3798
Standards
4X43DP

ISO 13997:
17.6N (1794g)
Product detail
Material
Colour
Interior Finish
Exterior Finish
Length (cm)
9.25 - 10.75
Thickness (mm)
Size
Packaging
1
12
48
Operating instructions
Instructions for use
Nitrile gloves are not recommended for use by those sensitive to dithiocarbamates
Avoid contact with ketones and organic nitrogen products
It is recommended that you pre-test the gloves as the actual workplace conditions of use
may differ from those of the CE type tests (in particular mechanical and/or chemical),
according to temperature, abrasion and degradation.
It is not recommented to use this glove next to moving machinery.
Make sure that hands are clean and dry before putting the gloves on.
Storage conditions
Store the gloves in their original packaging away from light, heat and electrical
installations.
Laundering conditions
Gloves contaminated with oil or grease should be wiped with a dry cloth before removing
them.
Caution: using the gloves or submitting them to a cleaning or laundering process that is not specifically recommended can alter their performance levels.
Drying conditions
Ensure the inside of the gloves is dry and that they are in good condition before reusing
them.
Legislation
This product is not classified hazardous according to the regulation (EC) n°1272/2008 of the European Parliament and of the Council. This product does not contain more than 0.1 % of substance of very high concern (SVHC) or any substance included in the annex XVII of the regulation n° 1907/2006 of the European Parliament and of the Council (REACH).
New
High protection for handling heavy or sharp objects in wet environments
To contact us
If you would like to ask us a commercial question about our products or if you would like to have more technical information about our gloves and their use, please fill out one of the forms proposed below.


Documentation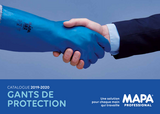 All documents